---
360 VIRTUAL TOUR (VR/MR/XR)
Our 360 Virtual Tour is a collection of 360-degree panoramic rotating images, Aerial Panoramas, LivePano and 360 Videos. This high-quality user experience shows multiple locations throughout a site, switching views via thumbnails, arrows and Navigation bar. The user has full control over what they want to look at and can zoom in or out to enhance the scene they're viewing. Which make campus live 24x7, so that anybody and look around and see amenities like seeing from their eyes. Our all 360 Virtual Tour is hosted on AWS cloud and google cloud using CDN, which enhance user experience and decreases loading time. All tour are VR headset enabled ex Oculus quest 2, HTC Vive, oculus rift, Pico VR etc. Golden Globe Technologies have presence nationally and internationally, we worked for clients like Carlsberg (Denmark), Intel (US), Dubai Tourism, India Army etc.
Compatible to all devices 360 Virtual tours
Our 360 virtual tour are compatible to all devices includes mobile, tablet, iPad laptop, desktop, VR Headset and custom kiosks. We develop virtual tours which are suitable for all browsers, support both Flash and HTML5 technologies and are compatible with different electronic devices. Our easy to use 360º virtual tour software will make it simple to display them seamlessly on your website.
Custom Overlay, UI/UX, Advance Tools 360 Virtual Tours
Our 360 virtual tour have custom design overlay, skin, buttons, foams, videos, floor plans, maps etc. gives user power to interact in most comfortable manner and help them to engage for more time with precise accuracy. Our custom GUI are designed in manner which load different UI for different display units. Advance tools like search bar, google maps, dropdown menus, popups, deep linking, start-up options, language selection, cloud API empower virtual tour with powerful functionalities.
Navigation enable 360 Virtual Tours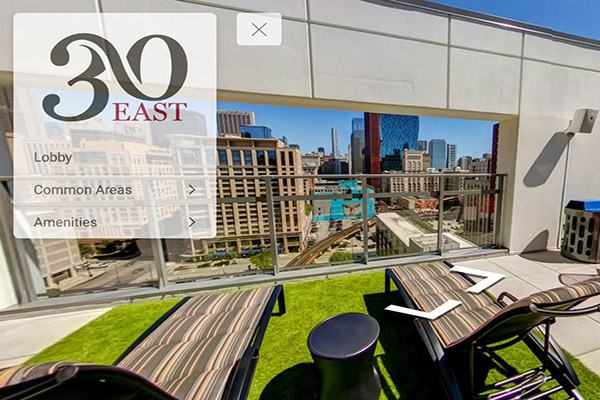 Our 3D walkthrough enable navigational 360 virtual tour gives feeling actually to be there at property without going physically being there for 24 X 7. So, anyone can see and feel campus like they are seeing from their eyes in virtual reality. Which help's clients, students, tourist and investors to choose the right Colleges, Real estate, Hotels etc. in significant challenging time due to the COVID-19 pandemic.
Dollhouse View with 6DOF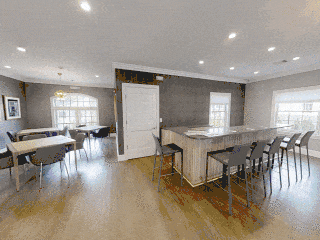 Golden Globe Technologies 360 virtual tour give freedom to walk around property as never done before, enjoy walking, stereo view, an immersing inside your content with a 6DOF with HMD, like Oculus Quest, Google Cardboard etc. Dollhouse view gives miniature model to premises to check property in glance. Very useful for showcasing in Real estate, virtual expo, Factories layout and many more.
Mobile App 360 Virtual Tours
Our one of the deliverable is custom mobile app for Android/IOS published on both Google play store and Apple app store both. Mobile app increases reachability and freedom to showcase beyond boundaries.
Advance Google Analytics enabled 360 Virtual Tours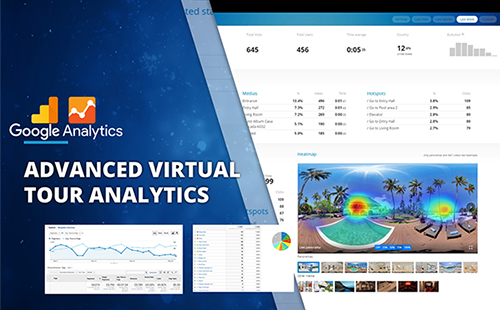 Our 360 virtual tour have power of advance Google Analytics. Our advance Google Analytics plugin allows you to see statistics on user visits and their activity within the tour. Track all events, buttons, spots, action and forums, which gives information about how much time people spent on which area and what are their field of interest. Behaviour analysis and cohort analysis tell about clients, geography, clicked events, engaged age groups and most important conversions.
---
Who can benefit from a 360° Virtual Tour?
Any industry that wants to show off the beauty and facilities of their location can benefit from a 360° Virtual Tour.
Educational Institutions
Real Estate, Residential & Commercial
Hotels
Retail stores
Geographical Information System
Restaurants
e-Commerce
Retreat Facilities
Medical & Veterinary Facilities
Conference & Event centres
Retirement, Nursing, rehabilitation, and hospice homes
Corporate
Automotive dealerships
Travel and tourism industry
AND more!